Agent Elizabeth's Mission To Barrel 27 Wine Company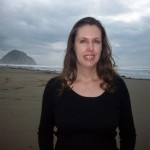 Barrel 27 Wine Company
This weekend our mission was clear: navigating grey skies and a slippery highway with the ultimate intention of pleasing our palates. Cautiously traipsing through the torrential downpour hammering San Luis Obispo County, a fellow wino and foodie friend and I arrived safely at our Paso Robles destination. Rain-spattered, we slogged our way through the parking lot of an industrial center to the home of Barrel 27 Wine Company, welcomed by blustery winds and the pungent scent of fermenting grapes emanating from 800 barrels of their ageing wine.
Entering the tasting room, beset by a high backdrop of round wooden vats, one of Barrel 27's partners, Jason Carter, soon greeted us in the cool 56?F cellar atmosphere. Over the course of the next hour, not only did he guide us through a flight of several lovely wines, but also graciously allowed us to explore their barrel room, adorned with stainless steel fermentation tanks and splendid French oak casks stacked loftily to the ceiling. Our expectations for their wine already high (as we had both recently stumbled upon some of Barrel 27's well-balanced creations), we earnestly sipped, swirled and unlocked the nuances of more of their fragrant wines.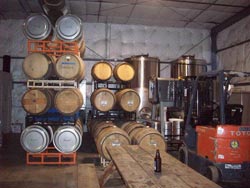 Some of the highlights included their beautiful white Rhone blend, 2008 High on the Hog ($15), a balanced blend of creamy Grenache Blanc, Viognier, Roussane, and splash of Marsanne. Possessing a light golden touch and fresh floral and citrus nose, this silky white left splendid traces of honey and lemon zest, and finished with a hint of mineral essence. Their caramel-blushed 2005 Central Coast Rosé of Syrah ($13) exuded light berry aromas. Our first sip produced a dense acid feel, soon toning down to allow the spicy layers to unfold. Smoky orange and berry undertones brought this food friendly wine to a balanced close.
Our next splash brought us their 2007 Rock and a Hard Place Grenache ($23). With captivating fresh garnet and violet affects and a dense blueberry nose, the flavors changed as our hands warmed up the glasses in this cellar-like temperature. Alluring notes of chocolate, blueberry, and charcoal warmed our palates, leaving a rich finish of orange rind and citrus. Their complex 2006 Right Hand Man, Central Coast Syrah ($18), exuded a deep, luscious plum tone and wafted of dried cherries. Possessing smooth notes of toasted vanilla, plums, currants and mocha,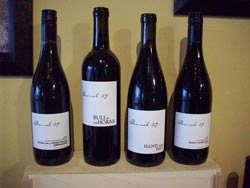 their signature wine left a light peppery and raspberry finish.
The nuances of their 2007 Hand Over Fist ($30), a sophisticated Rhone-style blend of 52% Syrah, 29% Grenache, and 19% Mourvedre, resulted in a beautiful shade of intense black plums, with a light jammy nose hinting of lavender and plum. This lovely fruit medley boasted currants, cherries, orange and chocolate, with a lasting mineral finish. This new release of their first Rhone-style blend proved dense and bold. Their 2006 Bull by the Horns ($32) also attested to Barrel 27's ability to construct unified, intense blends. This concoction of well-tamed Petite Verdot, Syrah, and Tempranillo grabbed us with its concentrated dark cherry tones, its spicy nose of currants and cocoa, and its perfectly blended layers of chocolate, blueberry, cloves, and vanilla yet peppery finish.
At the end of the day, my fellow wino (who happens to be a former Southern Wine and Spirits executive and has been involved in the wine industry for twenty years) declared Barrel 27's wines stunning. I couldn't agree more. In spite of the ghastly weather and feeling stuck between a rock and hard place, we found our right hand man, sipped hand over fist, rode high on the hog, grabbed the bull by the horns and discovered more outstanding well-crafted SLO County wines. Mission accomplished.
Visit http://barrel27.com for more information about their own mission.