Talk about a ghost of Christmas past. That was my first thought when I went into the cellar to pull out a bottle of red to go along with our take-out pizza the other night. This Christmas apparition, a 1996 Sterling Merlot, was still dressed in the gold ribbon it wore when it arrived at Club Loco back in the late 90s. It was dustier than I remembered.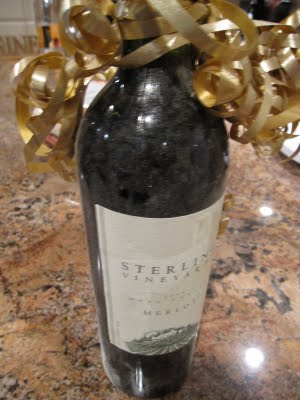 Over the past decade, I've often thought of Merlot as a wine cliche, much like White Zinfandel was to the 80s. Like aphids among the vines, bottles of Merlot started to pop up everywhere. They appeared at weddings and restaurants and especially at our house during dinner parties and holidays as they arrived with guests eager to spread good cheer. Where there's a party, there's Merlot.
Eager to jump on the wine train, I poured and drank, and poured again. This went on for years. I just didn't like it and I gave up. You can lead a girl to the tasting room but you can't make her drink.
I tried to figure out what the big attraction was. I was left with the belief that it had to be the cool name. After all, it really sounds chic to say, "I'll have a glass of Merlot." Leaving that "t" off of the end makes the coolness official combined with the fact that Cabernet Sauvignon is a bit difficult to roll off your tongue after you've had a few glasses of it.
As a result, years have passed since my last taste of Merlot. That is, until this past Saturday night rolled around. You see, I really hate to go against the grape. In addition to my conformist tendencies, I have embarked on a recent journey to revisit wine that I have decided I don't like. After all, tastes change, right? I was off to test the vintage.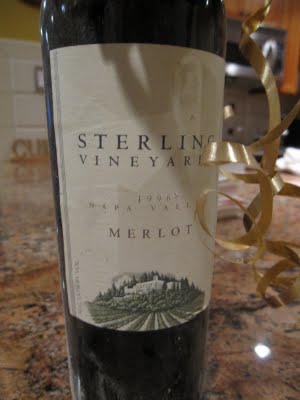 Back to the 96 Sterling Merlot. I grabbed my favorite bottle opener and attempted to open it up. The cork broke. The first aphid in the grape pulp. With some assistance, I was able to remove the cork without any further incident and the wine made it into my favorite, stemless tasting glass.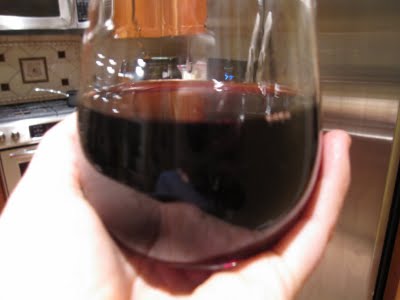 If you look carefully, you can see the "ghost" in the wine.
I sniffed and swirled. Not bad. I liked the color, a deep garnet. The aroma was earthy and rich with a small bite but nothing discouraging.
I tasted. Better yet. I was greeted by a spicy and flavorful wine that had plenty of fruit and a punch of cedar. Ok. It was downright pleasant.
I'm not going to whine over spilt Merlot and will stand by my assessments of the other Merlots I have tried. They do pale in comparison to the 96 Sterling. As a result, I now find myself with even more of a dilemma.
Do I like Merlot after all? Is my new found affection exclusive to the 14- year-old bottle from Sterling Vineyards? I guess only time will tell. In the mean time, I will, once again, take my hat off to Sterling Vineyards. You really knocked this Merlot out of the Valley.