Top 10 Most Expensive Wines
At the time of preparing this post I can honestly say that I would not be able comfortably afford even the #10 bottle of wine, which is well over $250. I think before I'd WANT to spend so much on a bottle someone out there should treat me to a taste or three so that I even have a frame of reference as to why these bottles surpass the $40-$60 wines I so rarely treat myself to.

Original research by askmen.com
NUMBER 10
Chateau Lafite Rothschild Pauillac 1996 – app. $287
Talk about being at the right place at the right time. In the mid-18th century, a French politician was about to be shipped off overseas, but not before visiting a physician. The doctor prescribed him some Lafite wine as a tonic. This politician enjoyed it so much that he offered some bottles to King Louis XV, and before long this wine became the star of Versailles and was dubbed "the King's wine." Remarkably dark, it sports mineral aromas of mint and black currant. Flavorful, its texture is silky and lingers in the mouth.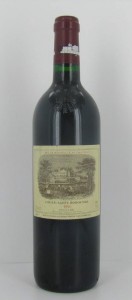 NUMBER 9
Chateau Margaux 1995 – app. $402
Its color is almost black, yet it couldn't taste farther from ink. Containing passionate fragrances of blackberry and cassis, this smooth and racy vintage is powerful but still manages to be compact in its fruit structure. This vineyard goes back a thousand years and it has definitely mastered the art. The 1995 vintage recalls the 1986 for its complexity but it's also a good reminder of the 1990 for its elegance. The 1994 version is also quite expensive.