Sexy Zinfandel – Should I Drink It Or Screw It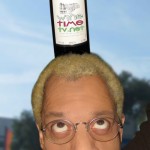 I don't do this that often
(or maybe this is the first time, can't remember) but I just can't resist quoting this wine review I received in Facebook. You'll find a link below to the original posting and by all means, take a peek because there's more.
Nonetheless, I got such a kick out of this wine description. I know it's an exceptional review from the author and not his/her normal schtick but man… after reading it I wasn't sure if I should open the bottle or 'use' it in some wicked way, LOL!
No matter your reaction, Wine Time TV is not affiliated with the wine nor winery in question so indulge at your own risk. I've posted this as pure entertaining fodder for wine fodder-lovers and whether you have the slightest idea what the wine tastes like after this impressive description is of little interest. Got 40 bucks to burn, go for it!
And I quote;
Overall character is that of a sex loaded scarlet; endowed, jaunty and erotically scented with every part smelling and tasting provocative, flamboyant and blooming.  Its gorgeous, vaunting style is burning, mantling and amorous with a extravagant softness that is grandiose, exotic and pursed lipped.  

There is a edginess, sophistication and dominating air that questions whether your palette has the true aptitude to handle the complete clutch of this much worldliness.  The body is chasmal, bounteous and a little weighty.  In the tasting profile you will never find the true heart of this scandalous wine so just enjoy your x-rated time together. Be aware you will be left lauding and lost when you awake.

The principle flavors change dramatically throughout the decanting process and are generally very floral including red roses, lavender, geranium, dried hibiscus flowers, cranberry raisins, currant jelly, mango with skins, red plums, cobbler, red cherry pie, marmalade red apple skins, strawberry balsamic, raspberry iced tea, fig jelly, orange flower water, cinnamon, nutmeg, coriander, paprika, star anise, graham cracker, sweet baking spice, at times cassis, blackberry bramble and whole black peppercorn.
I don't know about you but right after I figure out what the hell "chasmal" means, I'm off for a cigarette.
Phew!
Thanks for reading.
READ MORE about this sexy Zinfandel via SONOMA SOMMELIER :: AZZARO ZINFANDEL 2006.